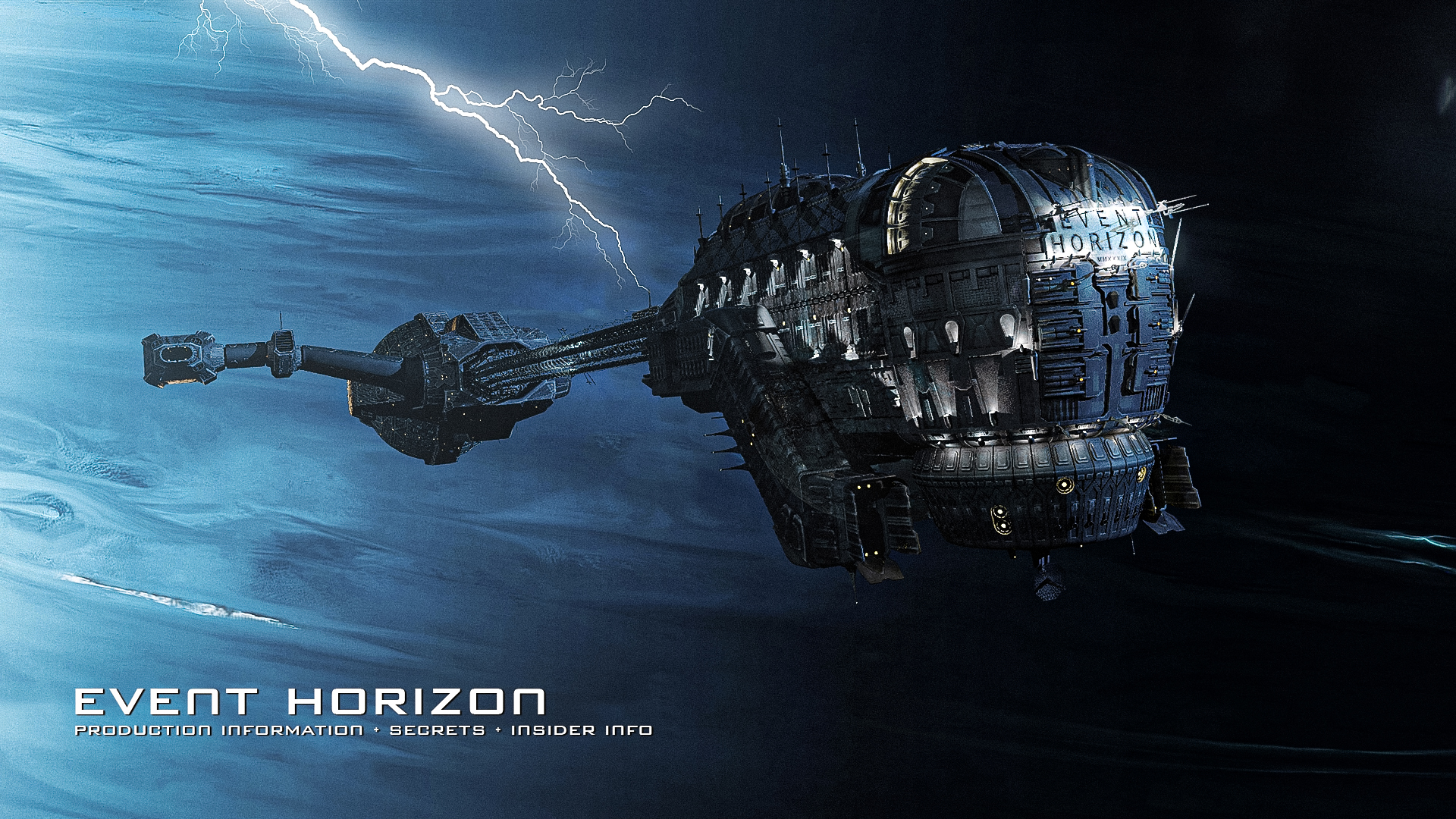 Back in 1997 we didn't have much in the way of digital cameras. The footage above was shot using VHS (Video Tape) on the set of Event Horizon (the Bond stage at Pinewood Studios). The video features models of the Event Horizon and the Lewis & Clark in various stages of completion. Recorded by Michael [Mark] Knight and Robin [Rob] Skinner. Copyright © 1997. This is the only official Event Horizon BTS footage from Mass Illusion. If you share this video you must give us the credit. This video will be added at a later date.
Event Horizon Scripts
You can download 3 version of the Event Horizon script, from the first draft to the final version . Some of the scripts have scenes from the deleted content of the film and more. (Note: You will need Adobe Acrobat Reader or a PDF Viewer to read the files.) Click a button to download:
Definitive Information from Production and Insider Views
Below, we have 3 tabs, packed with Event Horizon information from production to insider info. Click on each tab to view the content. Below the tabbed content are a few Behind the Scenes photos taken from the set.
Production Info
Event Horizon: the effective boundary of a black hole, the point at which light or matter can no longer escape the collapsed star's gravity. The point of no return.
The year is 2047: A rescue mission is sent to the outer reaches of our solar system to salvage the Event Horizon, a prototype spaceship missing for the last seven years. As the crew members search for survivors, they discover the terrifying secrets that tie within the mysterious spaceship.
Paramount Pictures and Lawrence Gordon present "Event Horizon," a GOLAR Production in association with Impact Pictures of a Paul Anderson Film starring Laurence Fishburne, Sam Neill, Kathleen Quinlan and Joely Richardson. The science fiction thriller is directed by Paul Anderson and written by Philip Eisner. The film is produced by Lawrence Gordon, Lloyd Levin and Jeremy Bolt and executive produced by Nick Gillott. The cast also includes Jack Noseworthy, Richard T. Jones, Jason Isaacs and Sean Pertwee. Paramount Pictures is part of the entertainment operations of Viacom Inc.
Aboard the Daylight Space Station orbiting Earth, Dr. William Weir (Sam Neill) awakens suddenly from a nightmare about his dead wife, Claire (Holley Chant). Weir, a brilliant but troubled scientist, has been haunted for years by his wife's suicide…and the disappearance of the Event Horizon…
The Event Horizon, a prototype spaceship, was designed by Weir to reach distant stars. Instead, the ship and its crew simply vanished without a trace. Now, seven years later, an emergency beacon indicates that the Event Horizon has abruptly reappeared near the planet Neptune. The message has been presumably sent by someone aboard the ship.
A mission is launched to salvage the Event Horizon and, it is hoped, rescue any survivors of its crew. The ship assigned to the mission is the USAC (United States Aerospace Command) Lewis & Clark, a search & rescue ship named for the leaders of the famed expedition that crossed North America in 1805. The Lewis & Clark has just returned from a mission, and her crew was looking forward to a well-deserved leave. The order to head out toward Neptune is not welcome news — but Captain Miller (Laurence Fishburne) leads a team of seasoned professionals: navigator Starck (Joely Richardson), emergency technicians Peters (Kathleen Quinlan) and Cooper (Richard T. Jones), engineer Justin (Jack Noseworthy), doctor D.J. (Jason Isaacs), and pilot Smith (Sean Pertwee). They accept their orders and embark with Weir on the 56-day journey to reach the Event Horizon.
Only when they are in deep space, however, does Weir divulge the secrets of the Event Horizon. Weir reveals that everything they have ever heard about the fate of the ship is a lie, but they are also completely unprepared for the truth. He explains that the Event Horizon was the first spaceship designed for faster- than-light travel, a concept that they all thought was physically and technologically impossible. The ship disappeared without a trace when the gravity drive, her revolutionary engineering process, was engaged. Uneasiness becomes anxiety when Weir plays the brief, fragmentary recording that is the only clue to the ship's fate — a recording of terrifying, inhuman shrieks and wails.
At last they reach the Event Horizon an eerie, cross- shaped vessel ominously looming against the cloudy atmosphere of Neptune. Biomonitors (used to search for signs of life) give strange, abnormal readings. The would-be rescuers board the ship, as vast and silent as a deserted cathedral. Within its snaking corridors and containment chambers, they find hints of the nightmarish fate that overtook its vanished crew– and discover a horror no one ever imagined, even in the deepest reaches of outer space.
When asked what attracted him to Philip Eisner's screenplay for "Event Horizon," director Paul Anderson explains: "I thought it was a hugely original work and something I hadn't seen done for a long time. It is a psychological horror film that reminded me of some of my favourite movies like 'The Exorcist' and 'The Shining,' but in a totally unique location: outer space." The ship, the Event Horizon., is possessed, he explains: "It gets inside your head and finds out your worst fear, your worst sin, your worst regret — and then it makes that thing flesh and confronts you with it."
To Anderson, the concept of "Event Horizon" is "to go into space and give people a different Look, give them a different feel- something in space that they would never have expected."
According to producer Lawrence Gordon, "This is a psychological horror film. Science fiction as a genre offers an incredible spectacle — it takes the audience where they can never go. Then, melding it with psychological horror gives it a new twist: This film is about a group of people who go to the outermost reaches of space…and confront the worst things about themselves."
To producer Jeremy Bolt, the film "has a wonderful element of technology but also a classic narrative. "I like action films that have some depth to them, some intelligent idea at their core, and this one has."
Executive producer Nick Gillott was attracted by the challenge of making the film as well as the story itself. "First of all," says Gillott, "I just thought it was a huge, intricate movie–which in fact turned out to be even bigger and more intricate than I'd originally imagined. I found that challenge very interesting." Gillott adds that "I also like the whole approach of the story It starts out in one direction, which is a team of professional astronauts going out on a rescue mission, and then it goes off in a whole new genre. It was different; I hadn't seen that before."
Screenwriter Philip Eisner began writing "Event Horizon" in the spring of 1992 and completed the initial script in October of that year. The screenplay was commissioned by Lawrence Gordon and Lloyd Levin, who set to work developing it with Paramount Pictures. Says producer Gordon, "This was an idea that Philip Eisner brought to me six or seven years ago and pitched verbally: a haunted house in space. I got excited about it,"
"Event Horizon," says screenwriter Philip Eisner, began "as a homage in many ways to the great haunted- house movies that I grew up with like 'The Shining' and 'The Haunting,'" His ultimate goal in writing the script, he explains, was to go beyond the merely frightening. "It's one thing to scare an audience with the monster popping out and going 'Boo!'" says Eisner. "But to create the sort of dread that you feel when you're in a nightmare and you can't wake up — or even if you do, that lingering sense of dread that clings to your body — was to me the ultimate. You know you can scare an audience, but can you really, really give them the night terrors?"
In 1995, producer Jeremy Bolt and director Paul Anderson, who were working on another project, mentioned that they wanted to do a science fiction film. They were sent a copy of Eisner's script and recognized its potential.
According to Gordon, Anderson was a natural choice for the project. "He has an incredible visual style as well as a true, true passion for both science fiction and horror — story and character, as well as visual. He gives a lot of texture to the film"
Science fiction films and great character development do not always go together, but for "Event Horizon," the filmmakers were determined to get the great ensemble cast the script demanded. Director Paul Anderson recalls: "I read this script and thought that these were really well-drawn characters and that we were going to get some real quality people to play them, because they are completely three-dimensional."
Producer Jeremy Bolt notes that "we didn't need to put a huge name in the title role because the idea of a haunted house in space was strong enough. The only criterion was for him to be an extremely good actor. Hence Laurence Fishburne, who has star quality — no question- – but is also a brilliant actor. Sam Neill, similarly, has star quality but is first and foremost a brilliant actor. Then, we loved Kathleen Quinlan's work in 'Apollo 13.' We wanted her for Peters."
Laurence Fishburne plays (Captain Miller, the head of the rescue mission sent out to the Event Horizon. Fishburne recalls his first encounter with the script: "From the third page, I was really hooked and very intrigued by where the story was going. I just kept flipping the pages wanting to know what was going to happen next. There's a lot of suspense. The other intriguing thing is that it didn't feel like typical science fiction fare where the effects or the monster are the primary things." Adds Fishburne, "I liked the combination of Miller's character being the guy who had been the furthest out into space, and Weir's character being the guy who invented this machine, the Event Horizon."
Sam Neill stars as Dr. William Weir, the brilliant, disturbed scientist who designed the Event Horizon and takes part in the rescue mission. Neill says that "1 had never been in outer space before, and I thought it might be an interesting place to go. The story seemed to have an air of mystery about it." To Neill, Dr. Weir is "a man in a bad state when we first come across him. His career is in tatters. His great achievement, the Event Horizon, is missing, and coupled to that, his wife is not simply missing, but dead. So he's in a state of grief for the things that mattered to him most. Then the Event Horizon turns up again, and maybe it will bring back some meaning into his life, galvanize him back into action:"
Kathleen Quinlan plays Peters, emergency technician aboard the rescue ship Lewis & Clark. Quinlan was attracted by the ensemble acting called for by the script of "Event Horizon." She took the role of Peters even though she admits that "usually I do not have an affinity for science fiction because in most cases you do a lot of acting to special effects. Much as I like working with myself, I much prefer working with other actors." Quinlan says that she "was looking to play a woman who does something, who is active. Peters is a working crew member, she's a single working mother. She's a doer."
Joley Richardson, as Lt. Starck, the navigator of the rescue ship Lewis Clark, is played by Joely Richardson. "I like the fact that she's so sharp and hard in a way." Richardson was also attracted to the project by the people involved. "I liked the fact that it was an ensemble piece and that I knew some of the other actors in it. That's what attracted me; chat and meeting director Paul Anderson."
Richard T. Jones plays Cooper, emergency technician aboard the rescue ship. Jones sees his character as much like himself: "I picture Cooper as an energetic kind of guy. He wants to have a good time, he's the joker of the crew. He's the kind of guy who's very serious and very passionate about his friends. I think anyone who's close to him, he wants to protect .. he's also the funky spaceman!"
Jack Noseworthy plays Justin (Baby Bear), the engineer of the rescue ship Lewis & Clark, is played by Jack Noseworthy. He says: "What I loved about the script, when I first read it, is that it read like a psychological thriller. There wasn't an alien; it was what you created that was really frightening –like 'Rosemary's Baby.' You never really see anything, but it's really scary and it's all inside." Noseworthy adds: "I loved what my character went through immensely."
Jason Isaacs plays D.J., trauma surgeon of the rescue crew. Isaacs, who confesses he's more accustomed to social dramas and angst-ridden parts, recalls his first reaction when reading the script: "I read this and I thought it was a great terrifying roller coaster of a ride." Isaacs describes D.J. as "rather taciturn, Irish, a bit of a scholar, not a communicator. He has a long history with Captain Miller. They've been through a lot together and served together before a lot of the other crew members came aboard." Isaacs adds, "One of the reasons that drew me to his character was, at first, I thought — and the audience might think – that he's going to turn out to be a villain. You're very suspicious of him because he's downbeat. That marked him apart."
Sean Pertwee plays Smith, pilot of the Lewis & Clark "It was like 'Jacob's Ladder,' says Pertwee of the film. His main inspiration for the character of Smith was 'Chef' in 'Apocalypse Now' — when he says, 'Never get off the ship!' That's where Smith's superstitious and religious theories come from. This is why I introduced the religious element, because his livelihood and survival are on the ship. He does not like getting off the ship. When he has to get off the ship, it goes wrong and he knows that. When he's sitting in the cockpit, he's in control and he's happy. Of all the crew members, he's the one who's right. They do get off their ship…and all hell breaks loose."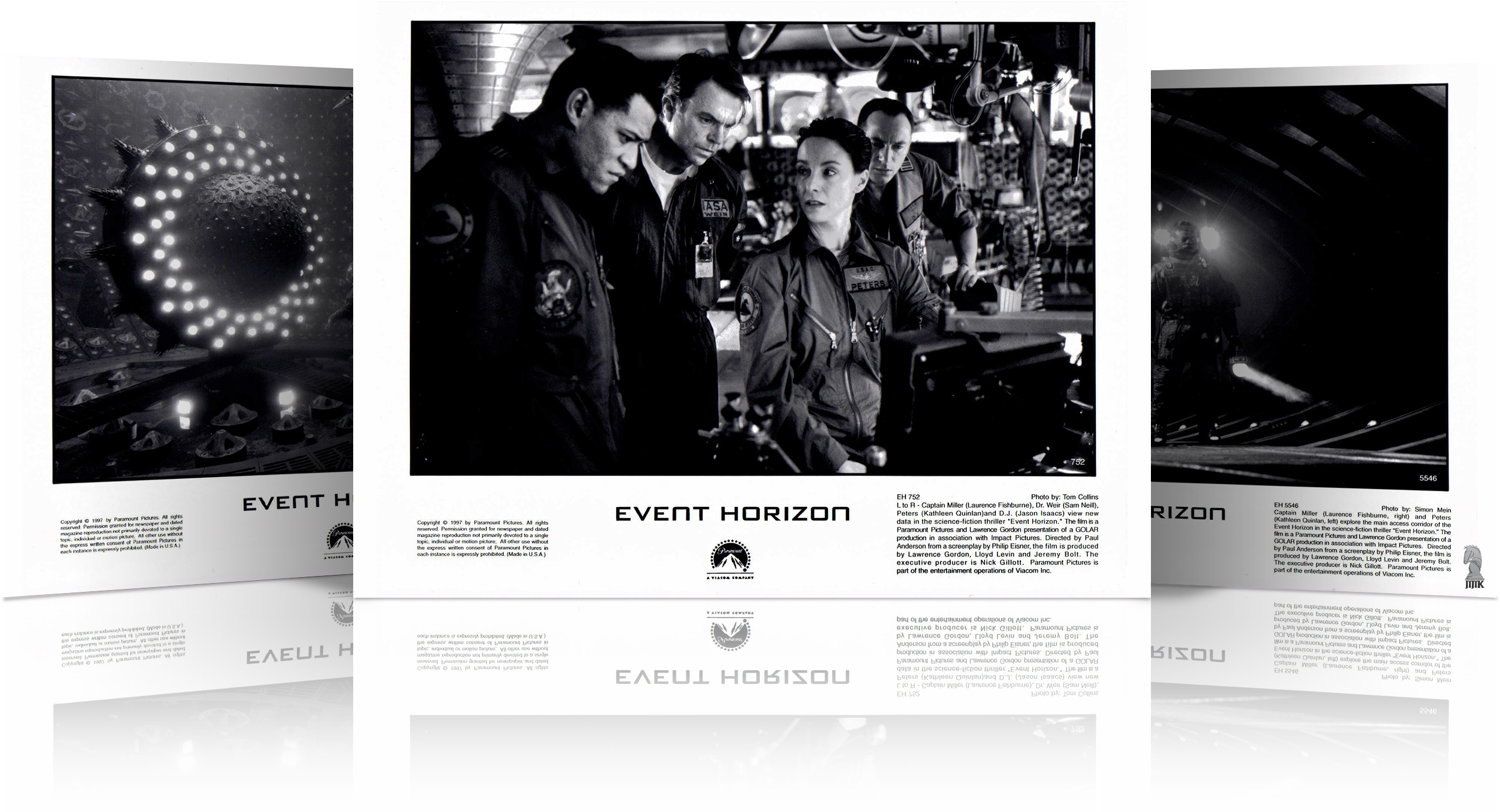 Laurence Fishburne comments: I think Paul's chosen a really wonderful cast just for himself. That's really what it comes down to. They say that casting is 95 percent of directing. With this movie, I'd beg to differ, because there are so many other elements in terms of the visuals. But he's done a magnificent job of picking people who bring different things to each character, and also bringing together people who were able to bounce off one another, listen, and react to one another. That's probably why we work well together. We were chosen well."
The bonding of the tight-knit crew of the Lewis & Clark in the film could also be seen among the ensemble cast hand picked by the filmmakers of "Event Horizon." When asked how such good humour and friendship could develop among performers from very different backgrounds, Kathleen Quinlan answers: "I think it's because everybody who is in this film, whatever their approach might be. is equally dedicated to their work." Of Laurence Fishburne, the skipper of the rescue ship, Quinlan says: "He has a lot to do with how people cling together, because if the guy who plays the captain of the ship was a jerk, the rest of us wouldn't be in very good spirits! Laurence isn't. He's very gracious, very warm, has a great sense of humour about all of it and himself — and he can hold the weight of being captain."
The cast members agreed on their confidence in director Paul Anderson, whom screenwriter Philip Eisner called "the Buddha of filmmakers." To Sam Neill, "Paul is absolutely one of those people to keep an eye on, because he's a force to be reckoned with. He knows exactly what's required – and it's slightly disconcerting from someone who looks 16 years old!" Kathleen Quinlan adds: I'm really impressed with Paul. He knows what he's after, he knows what he wants, but he's not so tight about it that he doesn't allow us to explore a scene."
About the Production
Paramount avoided the overused special effects houses ILM and DreamWorks in favour of smaller studios to keep costs down. Instead they opted for Mass Illusion, Cinesite (Europe) and the Computer Film Company in London. Even more than other films, science fiction movies stretch the skills and imagination of everyone involved with VFX, production design, costuming and makeup, and other technical skills of movie- making. If a film is set in present-day Russia or medieval England, the designer can research the actual Iook — of costumes, buildings and so forth — and then shape it to capture the mood of the film. For a science fiction film, everything has to be designed from scratch, to look believably futuristic but also to capture the mood of the film. In "Event Horizon," that mood was dark, Gothic and nightmarish.
The filmmakers made the decision to shoot the film in England, where they lived, and which had the studio facilities, including the enormous stage used for the James Bond films. Pre-production on "Event Horizon" started in May 1996." Shooting began on November 18. 1996, and wrapped on March 14, 1997. In the course of 16 weeks of filming, the production occupied no fewer than seven sound stages at Pinewood Studios as well as two silent stages. Under the supervision of construction manager Harry Metcalfe, 20 different sets were built, shot and struck in the course of filming.
A key element to cringing off this ambitious project was assembling the right crew and the behind-the- scenes personnel or "Event Horizon is an impressive line-up of top creative and technical talent.
According to producer Bolt, "The first thing we did was to secure the services of our film editor, Martin Hunter, who had worked with Paul on 'Mortal Kombat: The second was to get Adrian Biddle as our director of photography. We loved his work on 'Aliens,' 'Thelma & Louise' and '1492.' He's a great cameraman, and once you have that level of talent on your film, it's like honey.' "
In the area of production design," says producer Bolt, "we took a slight risk. We took a young designer who was unproven on a big film, Joseph Bennett." Bolt and director Anderson were impressed by Bennett's work on the film, "Jude." According to Anderson, "The reason we hired Joseph is that he was incredibly young and enthusiastic, and what, he lacked in experience, I thought he would make up in sheer flair. He hasn't disappointed."
Describing his approach to the look of "Event Horizon," production designer Joseph Bennett says, "The most interesting thing about the script is the interface between science, high technology and brutal, visceral human elements. It's only fifty years in the future," Bennett explains, "but at the same time it's a haunted house film. You don't want to make it too prosaic, because it won't be that exciting.
According to Bennett, director Anderson had a demanding conception for the film. "Paul wanted big, enormous, stunning; he wanted vast, huge, amazing. He's very visually aware and clear about what he wants. Within that clarity, he gives quite a lot of rein to develop ideas, which is great."
Says Paul Anderson, "I gave Joseph quite a detailed brief, because if you're going to go into outer space you've got to have a very specific, exciting design concept. You can't be sub-standard 'Alien' or sub- standard 'Blade Runner.' It's not like an urban thriller, where you're in rooms and nobody really cares what the rooms Iook like. ln this movie, the Event Horizon, the spaceship, is the movie; it is the central character of the movie around which everyone else revolves."
Event Horizon Ship
The overall conception of the ship was suggestive of an unearthly Gothic cathedral in space. As models designer David Sharpe explains it: "I was sitting down with one illustrator in Los Angeles, Peter Rubin. We did a lot of design work on computer, and what we did was to scan elements of Notre Dame Cathedral into the computer, so the thruster pods at the side were actually towers from Notre Dame. Although the details have changed, the overall design is still exactly the same – when you pull back, you see the crucifix hanging above Neptune."
The same atmosphere of sinister mystery was captured in the design of the Event Horizon's interiors. According to production designer Bennett, one of his key inspirations was the interior of a particle accelerator. "What I really liked about it was the plating and the shapes on it. It's highly technological, but it also has quite an interesting, almost medieval, armour-plated feel. It's taking that highly technological element and incorporating it with a medieval architecture. That's the mixture that will hopefully enhance the whole concept of the film." Explains director Anderson, "When the lights are on and the computers are up and running, it looks like '2001'– a big, vast, modern spaceship–but when the lights go off end the haunting begins, it's like a dungeon somewhere underneath a castle."
Adds Anderson, "In monster movies, once you've seen the monster you're not really scared of it any more. In this film, the whole ship is the monster — it's all around you. And you really realize these people are trapped, they have no escape."
Key interiors included the second and third containments, or seals, surrounding the gravity drive – literally a black hole – from which the evil force emanates. Production designer Bennett drew elements from Tibetan, medieval and Renaissance design, as well as modern technology.
Says screenwriter Philip Eisner: "Paul and Joseph have come up with things that I wouldn't have come up with given a thousand years, partly because I'm fairly grounded in the science side. What they did was to allow themselves to look past the science arid come up with a look. It certainly could be a scientifically valid model for what this machine is, but they also captured the essence behind that, which is that of a very bad machine. The Event Horizon is actually less a ship than it is a bad place in the most primeval sense of the term."
Lewis & Clark
The rescue ship, Lewis & Clark, has a very different look. Production designer Bennett describes it "as a submarine crossed with an ambulance. The crew all live together and travel on this ship, so it becomes the friendly world of ' space. It's a world that we know– a science fiction world that we're familiar with."
For the cast, working in these sets was an extraordinary experience. According to Jason Isaacs, "You arrive on the first day, and think: 'Wow! It's a theme park for adults!'" Contrasting the ships, Isaacs says, "The Event Horizon has a very different character and feet compared to the Lewis & Clark, and it was amazing how much that contributed to playing the scenes. The Event Horizon feels sinister, it feels unpleasant, like a malevolent force. The Lewis & Clark is a friendly, homey place." Adds Richardson: "The Lewis & Clark was my favourite because it really was like being on a spaceship. We all had our little corners that were our private areas· We got used to them and got really comfortable."
Set Design
Producer Bolt describes rounding out the basic production team. "We got a genius construction manager, Harry Metcalfe, without whom I don't think we would have been able to make the schedule." Bolt also describes the choice of visual effects supervisor Richard Yuricich. "We met with the team who made 'Mission Impossible, and they said you must have Richard Yuricich. So that was one of the first things we did, to secure Richard."
Science fiction, action, a touch of horror – all are elements of "Event Horizon," and they come together to pose a challenge in visual effects design. Director Paul Anderson describes the choice of Richard Yuricich as visual effects supervisor: "Richards not the kind of man who says, 'That can't be done.' The whole point of it is for people to go into cinemas and be amazed. That, to me, is the point of visual effects – to show an audience things that they could never have imagined, to take them by surprise"
Visual effects supervisor Yuricich originally supposed that simulating zero-gravity would be his most difficult challenge. As the film took form, however, the challenges proved to be more complex and subtle. "The kinds of things that are being done in 'Event Horizon," says Yuricich. "are what some people would think are physical effects — unnatural things and things you wouldn't see as a visual effect. You don't change the script to use a tool, in fact, you have to take the tool that you need to pull off what the story says."
In combining the elements of horror and outer space, three-dimensional imagery is crucial. Computer- generated images also play a part in visual effects. "There's one of the explosion sequences when a section of the ship is blown out," says Yuricich, "and a canister comes flying through the set. We had the trajectory of the canister slowed down by hitting a couple of physical spots on the ship, like a chair. Really the motivation there is to slow it down. When we put it in computer graphics, we'll have the chair spin, and splinter an actor as though he's been hit — but we'll put in 3-D computer graphics of the canister hitting him. We'll follow it through the set, bouncing off things, like a pinball machine. The collisions are to slow it down and to add dramatic effect."
The many special effects sequences 'in "Event Horizon" often required the actors to "play against" effects that weren't there during 'the actual filming — as, for example, when an actor has to respond as though he's seeing something that will be added during post production. To Laurence Fishburne, "It's like navigating through fog. It certainly is the biggest challenge, because you have to use your. imagination. You have to trust the director and really have a lot of confidence in what he's going to do after your turn is done." Says Joely Richardson. who had seldom worked that way, "It's tough and challenging in a completely different way. Also there is something addictive to it. You never know what to expect when you come to work."
Space travel, the cast discovered, is gruelling work. Many scenes required the cast to wear heavy spacesuits for EVA extravehicular activity, or "space walks"). The suits weighed 65 pounds each. Laurence Fishburne nicknamed his suit "Doris." For Kathleen Quinlan, wearing the suit and hanging from wires was part of the package: "Being physical is not really something I have to work up toward," says Quinlan, "I have an athletic background, so it's nice for me to do something that employs that."
However, 'Richard T. Jones admits that "I never thought about the wires and how heavy the suit is. Even though I love space movies, it's going to be a while before I do another one! l want to do a 'one- room' kind of movie–a nice 'Breakfast Club' type."
Portraying the exterior of the spacecrafts in "Event Horizon" required building and filming no fewer than twenty-eight models. Fourteen models of the Event Horizon, twelve of the Lewis & Clark and two of the Daylight Space Station, where the opening sequences of the film take place. The models included both complete reproductions of the spacecraft and models of sections, built in six different scales.
The different scales were necessary to portray the enormous spacecrafts – the Daylight Space Station is half a mile across, while the Event Horizon is nearly 7,000 feet long — while also allowing for action close-ups involving actors. Says miniature effects supervisor David Sharp, "If you do a pullback on the miniature and then you trace back the scale, you suddenly realize that for the live-action piece, you have to dolly 2,500 feet. It's impossible to do." The solution was to have complete models on a small scale and larger-scale models of key sections of the' spaceships for action sequences.
Many of the models were explodables, built specifically to be destroyed by internal explosions during action sequences. Sharp wryly admits to the fascination of blowing up his own models: "When you're a kid, you build a model and .then it's painted and you're done: you go through a depression because it's over. So blowing it up is actually a wonderful thing." He adds that "the dynamics of the explosion are more important than the detailing of the model – seeing the bits coming away properly and the scale working."
The logistics of building and rigging models for explosions may be a well-worn routine for film miniatures technicians, but simulating explosions in the zero-gravity of space is still a difficult challenge. The goat. says visual effects supervisor Richard Yuricich, "is to not leave you with the thought that something's wrong." The solution devised by Yuricich and his team was something never done before — they used gravity to simulate zero-gravity. The miniatures and camera were mounted upside down so that fragments that actually were falling seemed instead, to be flying up, away, into space. "When you flip it back up," explains Yuricich, "you'll see all the things that blow up go straight to the top of the frame. We make it look like the explosions went in all directions and gravity wasn't there to stop it happening." Some of these can be seen in the pictures below.
The special makeup effects and animatronics required by "Event Horizon" are so extensive that two leading firms, Bob Keen's Image Animation and Paulire Fowler's Animated Extras — normally industry rivals — teamed up to meet the work load. According to Bob Keen, "The challenge the film placed on all of us was the sheer amount of work. A lot of the effects and techniques we've used before, but the sheer quantity, to keep the quality high, meant that you were always pushing teams to the absolute extreme."
Says Pauline Fowler about director Paul Anderson's leadership, "This is a heavy film, so there might be a lot of politics, out he was the one who kept everyone centered."
The challenges in the film ranged from portraying a frozen human corpse that shatters into fragments, to a sequence in which actors had to be shown with their eyes removed. To provide the effect of eyelessness, the combined team worked with visual effects supervisor Yuricich. Explains Yuricich, "Contact lenses were put onto their heads with makeup around them We can track those contacts, and later 'dig' holes in their heads, remove their eyes and put in a cavity in 3-D computer graphics."
To Bob Keen, the film marks the state of the art in combining traditional methods with computer graphics. "If you wanted to write a book about modern-day special effects," he says, "choose 'Event Horizon,' because it would have every single effect. It's got all the simple effects, the complicated ones and the outrageous new ones." Of the impact of the film, he adds, "It's a roller coaster ride to Hell. If people go out of this movie with nothing else, they will have seen a film that will have touched them in places where no other movie would dare to go."
Black Holes and Event Horizons
Few things in the universe are more awesome than the death of a giant star. At the end of its lifetime, the nuclear furnace in the core of the star runs wild. The outer layers of the star literally explode in a titanic eruption – a supernova — that can outshine an entire galaxy of stars. Even as the outer layers explode, the heart of the dying star collapses, crushing together to form a neutron star–a single atom the size of a mountain and weighing more than the Sun.
Yet the largest stars cannot even end as neutron stars. As they collapse, their gravity overcomes the nuclear forces that support a neutron star. The star collapses to… nothing. As it does, its gravity becomes so intense that even light cannot escape, and the dying star literally vanishes from sight. All that is left to mark its passing is me strangest and most sinister of all celestial objects: a black hole.
We can never actually see a black hole, since no light can escape from it. However, in some cases, a black hole may draw in a whirlpool of matter which swirls around it as it falls ever closer to the event horizon – the point of no return where matter is trapped by the black hole and vanishes from sight.
Celestial gas and dust — and perhaps stars and planets — all can be caught in the whirlpool. As they swirl down toward the event horizon, the intense force of gravity causes them to glow and also stretches them out in a so-called "spaghettification" process — until the moment they pass through the event horizon and vanish.
The possibility of black holes is based on Einstein's Theory of Relativity, and as early as 1916, the German astronomer Karl Schwarzschild formulated the concept of the event horizon. The idea long remained pure theory. In recent years, though, astronomers believe they have detected tell-tale whirlpools of falling gas in distant space. Stars in orbit around black holes are gradually being cannibalized as the black hole's gravity pulls material from them and drags it down through the event horizon.
Some physicists — notably Stephen Hawking, author of A Brief History of Time have theorized that material that vanishes into black holes may eventually burst forth from a "white hole" far across the universe. Some theoreticians have even suggested that our entire universe is, in a sense, inside a cosmic black hole. But all of this remains speculation. Physics can only give suggestions, not firm answers.
The nature of evil is often called a metaphysical question, from the Greek word meaning "beyond physics." The singularity that lies at the heart of a black hole is "beyond physics" in the most literal sense. All of our theories break down there, and all of our calculations produce incomprehensible results. We simply do not know what may lie beyond the event horizon. If we could somehow pass through, we might be transported to distant stars. Or we might find ourselves hurled into the remote past, or the unimaginable future, or into some other universe entirely. Or–for all we know–it might lead us to the very gates of Hell.
A copy of the production information can be downloaded here:
Cut Scenes, The Original Script & Trivia
What happens to the rescue crew is exceedingly nasty. So nasty, in fact, that many of the film's goriest shots had to be trimmed. Perhaps you've seen these bloody, maggoty "deleted scenes" floating around the web. Maybe their sheer grossness surprised you. You might be more surprised to learn that these "deleted scenes" weren't deleted at all — they're in the movie. They're just very, very quick. It's true that they lasted a few frames longer in rough cuts of the film, but Paramount and test audiences balked at how violent Event Horizon was.
Event Horizon – Cast
Consequently, editors shaved the film down to 96 minutes. But despite all the trimming, Event Horizon failed to impress critics. It under-performed at the box office, adding insult to injury. But in the 19 years since its limp release, the film has become something of a cult gem. Now, Paul W. S. Anderson and producer Lloyd Levin both claim that a more gruesome cut of the film, reported to run for 130 minutes, molders on a VHS cassette somewhere.
Now, there's no way they cut 34 minutes of pure gore and violence out of Event Horizon. Having a 130-minute rough cut with 34 minutes of expendable violence is just wasteful film-making. But if such a significant amount of footage is missing from the final cut, what haven't we seen?
LYLE AND HOLLIS
In a 1992 draft, the screenplay opens much like the movie. After a short nightmare sequence, we meet Dr. Weir (Sam Neill). But instead of cutting right to the chase like the film does, there is an additional scene of exposition. Admiral Hollis and his adjutant, Lyle, brief Weir on the reappearance of the titular ship. This scene survived into production but wound up on the cutting room floor. Why? To be blunt, it's boring. The performances are stiff. It's also functionally useless — all the necessary exposition shows up again later. If you're so inclined, you can watch this scenes on the Blu-Ray version.
MINING SHIP RESCUE
This is, without a doubt, the deleted sequence I wanted to see restored to the original cut the most. The only trouble is that it never made it to production. In these introductory scenes, we meet the rescue crew of the Lewis and Clarke. They receive a distress call from a small mining vessel called The Lucky Strike. The rescue sequence is riveting, invoking the famous "spinning sequence" from Interstellar. This exciting rescue gives Captain Miller (Laurence Fishburne) the screen time and setup needed to be the film's protagonist. In the final cut, he plays second fiddle to Dr. Weir.
MILLER'S NIGHTMARE
The 1992 draft features a scene aboard the Lewis and Clarke in which Miller wakes from a nightmare. He walks to the bridge to find Dr. Weir, where they share an emotional beat. They talk about Weir's deceased wife and the guilt he holds for being a workaholic while she was terminally ill (in the film, her death is a suicide.) Scenes like this are easy to cut, especially in the first act — we want them to get to the damn ship already. But this is a well-written scene that provides a better foundation for the dynamic between these guys. It also provides a better reason why Dr. Weir doesn't know what happened to the Event Horizon, which the movie sorely lacks.
Event Horizon – Spinning Tunne / TECHNOBABBLE
Though it's not so apparent in the final cut, Event Horizon carries a strong whiff of Star Trek. The first ship to attempt faster-than-light travel disappears only to return infected with an evil, shapeless intelligence that can read and control minds. That's very, very Trek. But earlier drafts of the script were even Trekkier. The technobabble is off the charts. Scenes consist of characters typing commands into computers or discovering aberrant code. They have discussions about radiation levels and argue about thrusters versus ion drives. Philip Eisner put a lot of thought into the technology and logical details of Event Horizon, but almost none of it made it into the final film. That's probably for the better — a horror movie about hell's favorite spaceship doesn't have to be full of lines like "a craft this size displaces too much mass for conventional thrusters." But talking of thrusters, the concept for the Event Horizon thrusters were conceived from the towers on the Notre Dame Cathedral in Paris.
VISIONS OF HELL & THE BEYOND
The film's most gruesome moments are also its shortest. When the rescue team watches the Event Horizon's video log, they discover the fate of the ship's crew. It's not pretty. Later, after the ship's power has seduced Weir, he shows Miller visions of his crew. Each one of them tortured or dead in unspeakable ways. In an earlier cut of the film, these Hellraiser-inspired images lasted quite a bit longer. There was a full orgy scene where Anderson hired Adult film stars to simulate the sex scenes.
However, earlier drafts of the screenplay described something much different. The visions feel much more alien: an unfamiliar red sun. A planet covered in an oily, black sea. Eyeless octopoid aliens ripping each other apart like the crew of the Event Horizon. It reads a lot like a scene from James Gunn's Slither, in which a girl sees flashes of a worm-like parasite taking over a distant alien planet.
These short visions would've added a distinct element of visual exposition to Event Horizon, further illuminating what the evil force is. The shooting draft of the script contains a cheesy line that explains it even further: "I'm not the Devil. I'm much, much older. I watched the Beginning and I will see the End. I am the dark behind the stars. I am the dark inside you all."
WEIR'S REBIRTH
After the evil force seduces Dr. Weir, Captain Miller blows him out into Neptune's orbit. Good riddance, right? Wrong. He shows up again as the Weir-beast, his hairless skin carved with runes. But Weir's reappearance in the screenplay was much more akin to Hellraiser than in the movie. The film shows Cooper (Richard T. Jones) and Starck (Joely Richardson) in the gravity couch bay, surrounded by the tubes of fluid that protect sleeping travelers from sudden changes in acceleration.
The fluid in the central tube turns blood red. The tube shatters, pushing out a crimson tidal wave. Starck then tumbles down a ladder, landing on her back. In the screenplays, Weir's body reconstitutes inside the blood-filled tube, building up layers of bone, muscle, and skin. Evidence exists in the film's deleted scenes that Anderson either shot or intended to shoot this sequence. Deleted footage shows a blood-soaked Weir climbing down the ladder head first, grinning at Starck and Cooper. It makes an impression.
Insider Information
The Event Horizon event
Event Horizon came out in 1997, and joined a rare group of Sci-Fi and horror movies with some very interesting art direction, which included Alien. The early photos and the images of the spacecraft promoted the mystery of the ship's exterior and engine room. Once one actually got down to watching it, it revealed itself to borrow from a number of different Sci-Fi and horror films at the time including Alien but not in terms of having an alien monster running loose.
At the time the film's plot seemed very derivative, one could immediately see the comparisons to Hellraiser but images such as the main ship's design engine room gave the film a sense of mystery. Over time the film gained more respect from the public because the film industry offered less and less over the decades that could be seen as any better. After a while once the Hellraiser film series lost its way after three films, it almost became a near enough welcome addition to Hellraiser making the ship's odd design seem like another Lament Configuration from that film series.
Eisner Pitches the idea
Larry Gordon bought it off a pitch. Phil Eisner told Larry Gordon "I want to do a haunted hose in space, " Larry replied enthusiastically, "That's great, what happens?' But Eisner replied "I don't know, I have to write it". And so Larry and his associates response was 'Doh! You've got to give us more than that." And I came back and told them, "Okay, this is the set-up, the ship is the first ship that has been faster than light. It's vanished for seven years, it comes back and no-one knows what happened, and these people go out to find it,' This all sounded good and so they said "Great!"
They liked the idea enough to trust him to do it.
Phil Eisner
Inspired by The Shining, The Haunting and perhaps Alien. A popular point of discussion is how the Paul Anderson sci-fi horror movie "Event Horizon" was inspired by Alien.
However when Philip Eisner wrote the script for Event Horizon, he wanted to avoid comparisons between it and of course Alien which deals with the investigation of a derelict ship, he talked about how he tried to take inspiration from horror movie such as The Shining and The Haunting which are both classic movies, yet his script includes the lone corpse of one of the crew found aboard the ship and the disappearance of the other members of the crew which is something found in Alien as well, but they both share this trope with the novel Dracula by Bram Stoker published in 1897.
As Anderson would further note like a ship that's been abandoned, but the lifeboats haven't been used and there's no sign of the crew.
There are blood stains on the walls, but there are night signs of any bodies. As they begin to salvage the ship, the search-and-rescue crew start hearing strange voices and start seeing strange apparitions. They gradually realize that something is terribly wrong.
Still both Event Horizon and Alien have an inhuman sounding distress signal as part of the scenario which became mistranslated from a distress call to a warning. The spacecraft surrounded in the clouds is supposed to be reminiscent of a haunted house surrounded by mist and the story is much like taking a classic haunted house story and putting it in a science fiction realm.
However, Eisner's script featured tentacular slimy aliens which Anderson didn't appreciate and so he did a rewrite under Anderson's supervision.
Then Anderson brought in Andrew Kevin Walker to do a rewrite, he was fresh off writing the script for Seven which had been released in 1995, and then he was brought into it the idea of hell and damnation.
Inspired by Alien?
The final Event Horizon as with Alien presented a movie where the remains of a dead pilot are found and the rest of the crew have disappeared, however it's only a question asked in Alien about what happened to the rest of the crew, there is no evidence that there must have been any others aboard.
Nonetheless, both of the movies contain a mysterious roughly spherical chamber with a large inspiring centrepiece contraption, (in Alien, the Space Jockey seat, and in Event Horizon the Gravity Drive that in flashbacks transforms into a torturing machine).
However Sam Neil's character, Doctor William weir appears to be the Ash the robot of the Event Horizon throughout much of the movie, unable to say why anything is happening causing anger because of his indecisiveness, and by the end of the movie he becomes as it were near enough the alien monster that's become a Hellraiser cenobite by the end of it. And like Lambert and Dallas, two members of the crew become victims when they go load up gas cylinders.
There are various words and phrases here and there flung around that seem to echo various sentences uttered in Alien. It appears to be a time when it is very hard to get out of the grip of what the Alien script was with all of its ideas and content, but an important difference between that and the resulting Event Horizon movie is that the monster is the ship, and the thing that you're afraid of is the dark inside everybody.
A monster can only do what it can do, while in this film, if they're surrounded by horror all the time, it can burst out at any moment. Ridleygram of the empty Space Jockey chair in the pilot chamber for Alien.
Alien and Event Horizon discussed by director
Despite Paul Anderson's attempt to make Event Horizon a movie different from Alien, he found himself talking away in interviews about Alien and Event Horizon as if they were interrelated subjects.
But really, although he loved the original Alien movie, he didn't see the alien as being particularly scary 20 years on in the way it was being used in the franchise. It continued burst out of people's chests (or stomachs so he said), so what? Jeremy Bolt the producer was talking in the same terms, and that after 20 minutes into the film, any notion about Alien will have faded away.
Meanwhile Event Horizon had elements of the unknown, and for a long time people wouldn't have any idea what was going on in the ship. He wanted to stress a comparison with Solaris, and also how the ship itself as a conscious entity is to be compared to the creature from Alien in that you never know what it is going to do to do next while it plays mind games with its victims, the film plays on fears and guilty big time.
When it came to the production of the film, they freely thought about the run down dirtiness of the Nostromo when they created the human's ship Lewis and Clarke, and each of the human's bunks were decorated with photos of family and nude girls in a similar way to Alien, by the actors.
It also so happened that Alien's editor Terry Rawlings came along to give advice and suggestions for two weeks leading to shots such as the jump cut from Sam Neil using a razor to window blinds opening which was the first big visual jump in the picture.
Millennium Falcon Insider Joke / Tribute
Trivia: Nobody really notices that the Gravity Drive of the Event Horizon (viewed from the side) was actually the shape of The Millennium Falcon. It was an in joke designed by the modelling crew and was also a homage to great sci-fi. The idea originated by Richard Yuricich who added an R2D2 to the detailing of the Close Encounters Mothership, so, we included the Falcon into the Gothic design of the Event Horizon. See for yourself below. Also, the model of the Event Horizon includes a complete "X-Wing" from Star Wars as part of an antenna array. The model is visible on the lower portion of the Event Horizon during the first flyby by the Lewis & Clark.
Trivia: A lot of the doorways inside the Event Horizon are coffin shaped. The rest are circles.
Triva: The Nightmare/Hell Scenes in Event Horizon feature a few times in the Episode 'Random Thoughts' from Star Trek: Voyager (Season 4, Episode 10). Evil Dr. Weir can be seen in most of the bad thoughts flashbacks that Commander Tuvok shares on the Planet in this Voyager episode.
Trivia: After the opening scene and you see the Event Horizon's interior, you'll see a book floating past the camera. On the cover is a photo of Paul Anderson.
Trivia: Pieces of the Event Horizon were used in another Paul Anderson movie, Soldier, staring Kurt Russell.
Trivia: Just before Dr Weir wakes from the Stasis Pod, he has a dream about Claire, his ex wife. He's on the bridge of the Lewis & Clark and Clair is sat in DJ's chair. On the screen you'll see 2 eyes stuck on there, just before Claire turns around and then appears behind Weir where she opens her eyeless lids.
Trivia: The Event Horizon ship was created from inspiration of the Notre Dame Cathedral. The thruster pods on the sides are basically the towers of the cathedral. The concept for this ghost story in space was to basically have the ship as a cathedral in space.When the the scene in the movie where you first see the Event Horizon come back from god knows where, and the camera pans out, you see the ship floating in space like a crucifix.
Trivia: The original title for Event Horizon was "The Stars My Destination".
Trivia: The 'Visions from Hell' were inspired by works from 16th-century Renaissance painters Hieronymus Bosch and Pieter Bruegel, which director Paul W.S. Anderson saw while he was touring art galleries with his production designer. Anderson was fascinated by these paintings, as the makers clearly believed in the reality of Hell as the complete antithesis of Heaven, and the images they created were terrifying and beautiful at the same time.
Trivia: Some of the deleted scenes from the original 130 minutes long rough cut are:
The meeting scene between Weir and some people in charge of the mission where they talk about Event Horizon (dialogue from this deleted scene was included in theatrical trailer).
More back story for Cooper and Justin (including much stronger explanation for why Justin enters the black hole). It was explained that greatest fear of Cooper was losing someone close to him which is represented in the film by the unfortunate accident that claims Justin.
Deleted love back story between Starck and Miller.
Miller finds a ripped out tooth floating around in Event Horizon.
More scenes explaining what exactly gateway to hell/black hole is.
Longer version of the scene where Peters hallucinates her son with his legs all mangled with maggots all over them.
After Justin almost died and is inside the water tank, Weir has hallucination where Justin turns into his wife Claire who comes out and looks at him; this scene was included in first two test screening versions of the movie but it didn't made it into the final cut.
Scene where Weir remembers his wife Claire committing suicide was also longer and bloodier.
The infamous "bloody orgy" video was also longer. Parts which are still in the scene, like one of the crew members sticking his fingers deep into other one's eyes, and a female crew member sodomizing male crew member with iron pipe, were even more violent in original version of the scene. There were also lot more shots of Event Horizon crew naked and covered in blood having violent sex and raping and eating each other, more graphic version of the scene where man pulls his intestines out of his mouth, one crew member is held and stabbed in back of the head with spike and part of his mouth and teeth drops out, other crew member is crawling on floor while others are hitting his legs with steel bars smashing them to pieces as he screams and is crawling away leaving pieces of his legs behind, one girl has screws drilled into her teeth, other girl is held while her arm is broken with hunk of metal, one more girl has her breasts mauled and then ripped off by another crew member, some other parts of the scene were also cut. The reason why this scene disturbed the test audience was because the filmmakers, in order to make the scene look more realistic and therefore a lot more violent, hired real-life amputees for special effects scenes where Event Horizon crew members had their body parts damaged in many ways, and porn actors were hired to make the sex and rape scenes more graphic. According to producer Jeremy Bolt and director Paul W.S. Anderson, during the screening of a rough cut of the movie, some audience members started fainting while watching this scene.
The scene where Miller finds DJ cut open and hanging was longer and it had more shots of his guts on the table.
The scene where the cryo-chamber is filling with blood originally had a part where Weir's hand pounds against the glass from inside and smashes the chamber letting the blood out; then as Cooper is helping Starck to escape, a mutilated and naked Weir is climbing from a ladder upside-down behind them.
Originally in the scene where Miller fights with possessed Weir there was a part where Weir gives, what director Paul Anderson referred to as "The Old Testament Speech" to Miller and tells him that "dimension of pure chaos" is actually hell.
The "Visions of Hell" sequence during the final fight between Miller and Weir was also longer and it had more shots of Event Horizon crew members being tortured.
Three different alternate endings were also filmed:
In the first ending Miller fights with Weir in the core. This version didn't have the jump scare at the end when the last three survivors are found by another rescue crew, and Starck hallucinates that she sees Weir: instead, Starck hears screams of the Event Horizon crew and screams in fear before Cooper wakes her up. This was the original ending of the movie and it was included in the shooting script.
In the second ending Miller fights with the Burning Man from his visions at the core instead of with Weir, but it was changed because the audience of the second test screening didn't like it. This was the original ending.
The third ending that was used in the final cut is a combination of the first two endings: instead of fighting the Burning Man, Miller fights with Weir, and the jump scare was included at the very end of the movie.
Trivia: The man in flames who haunts Miller is revealed to be Edward Corrick, a young crew member who died after an accident in the starship Goliath, commanded by Miller.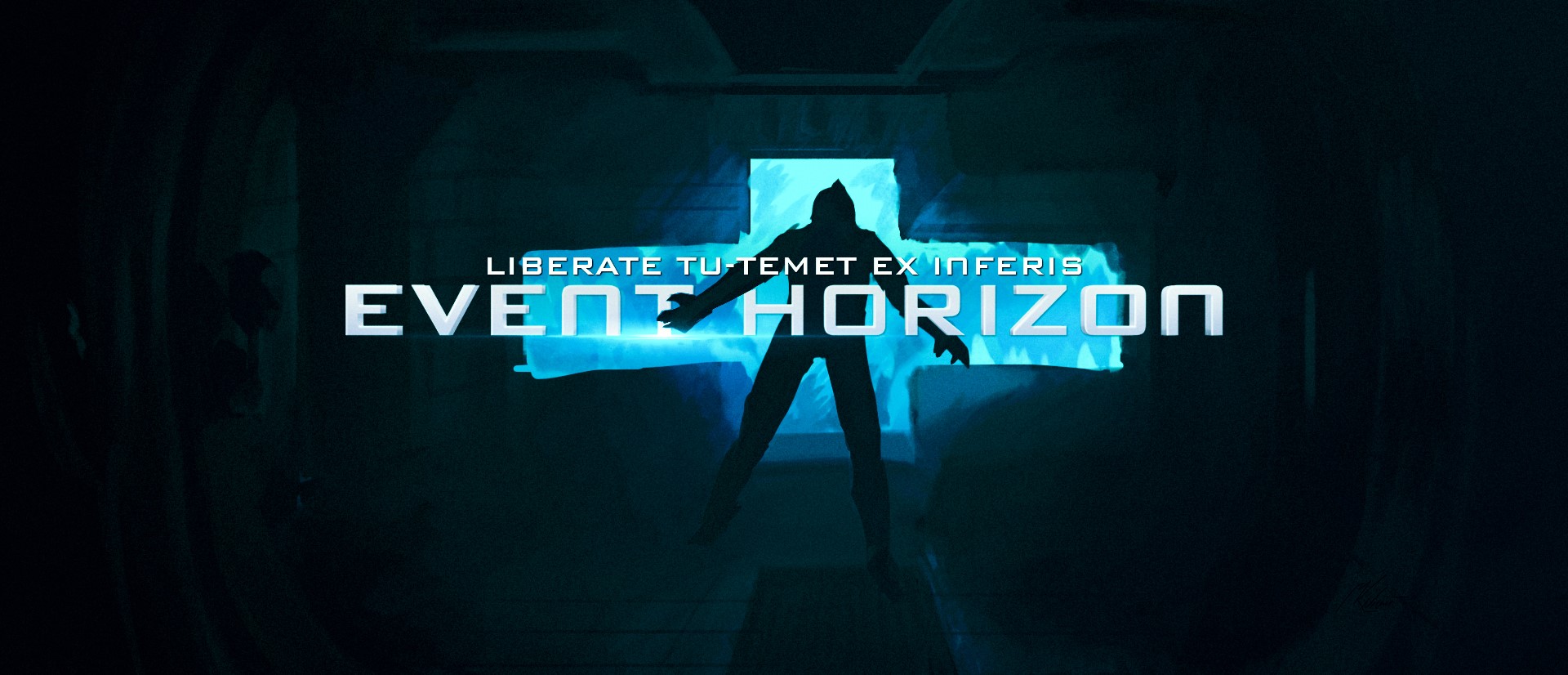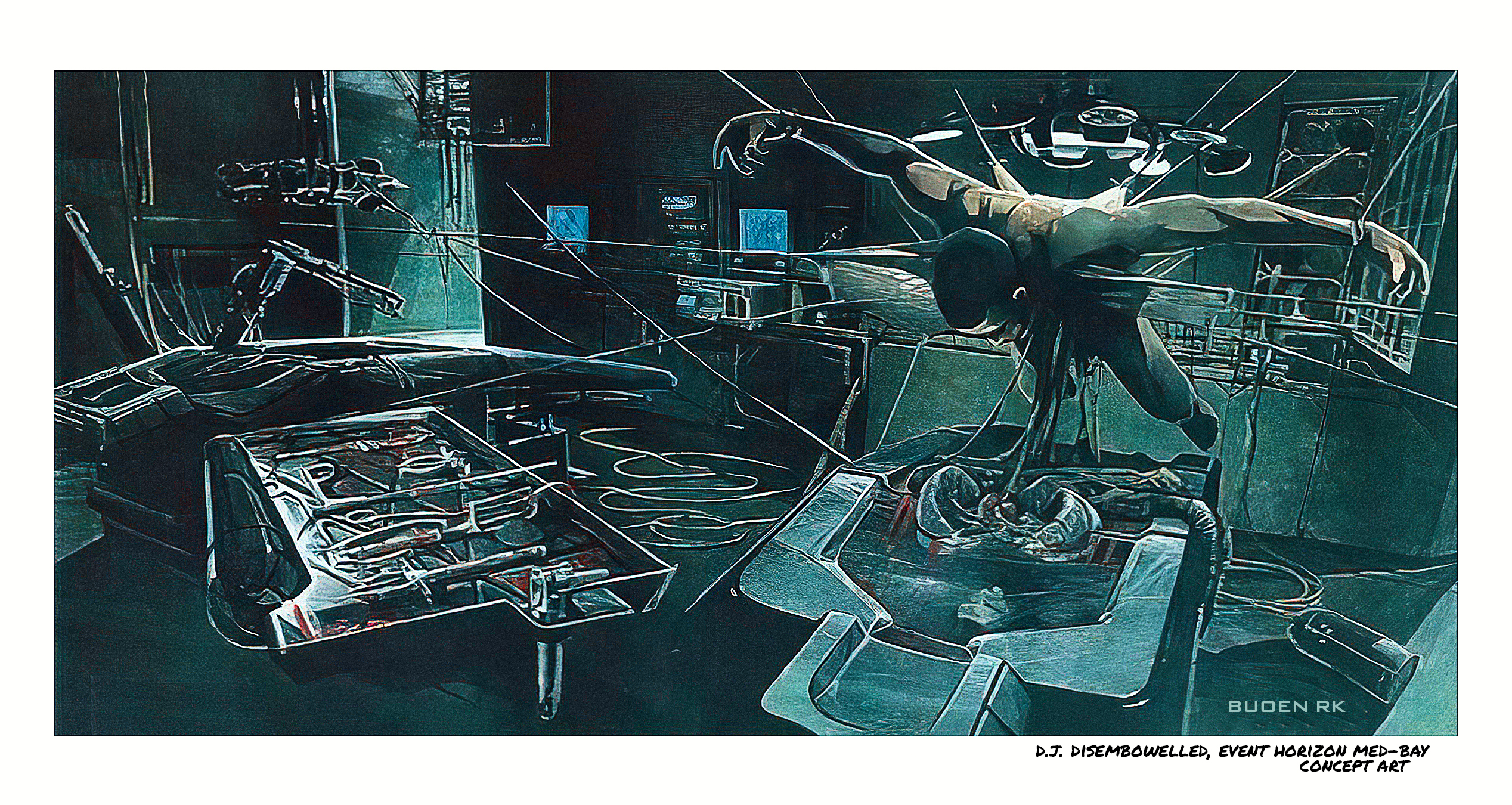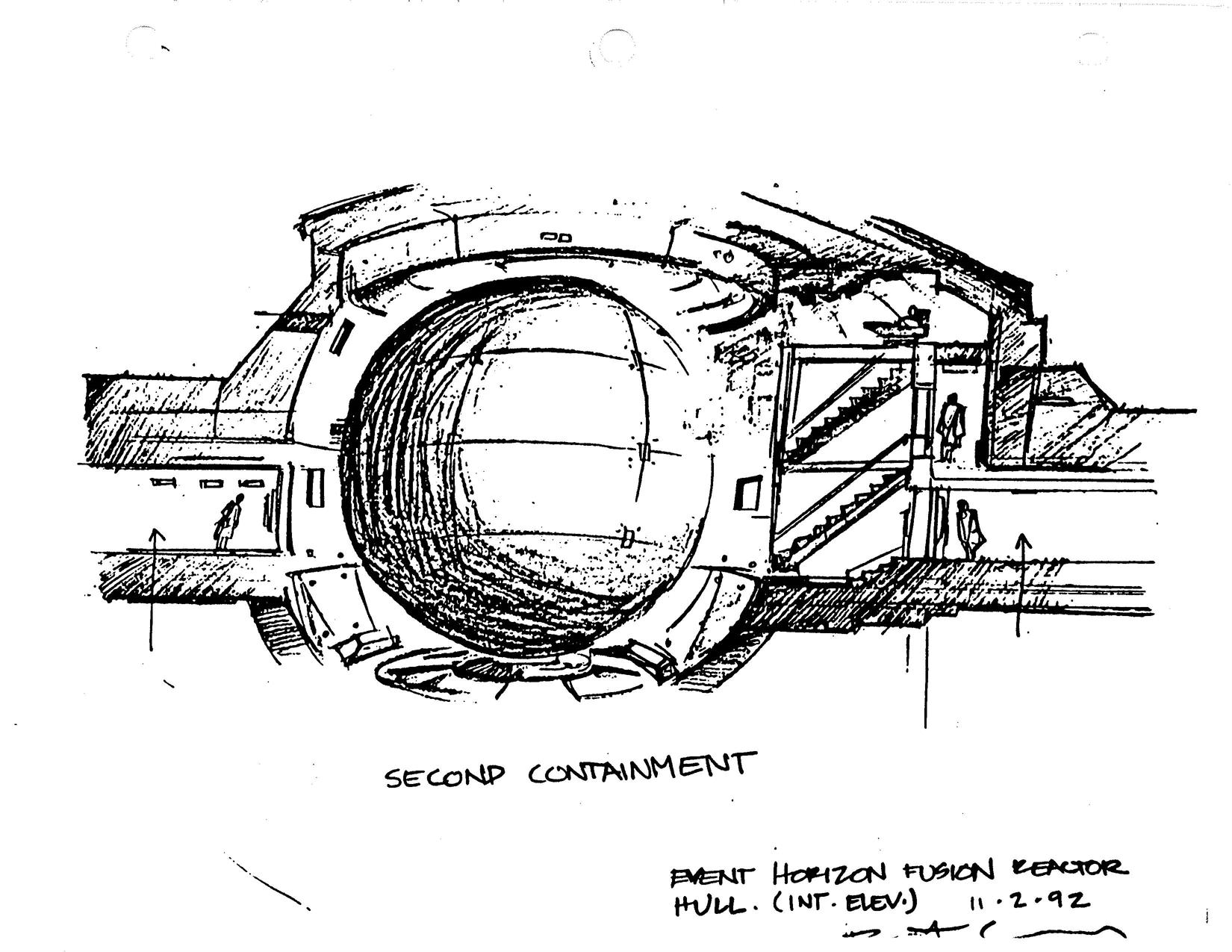 Behind The Scenes Photos:
Photos Copyright © Michael Knight. Page last updated: 07 July, 2013. 7:27pm